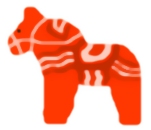 About
A fanlisting is a place where all fans of a certain subject come together and have themselves listed. This is a fanlisting for the Swedish language. To learn more about everything out of the wonderful world of fanlistings go to TheFanlistings.org.
Layout
Images scanned from postcards, found through Google image search or drawn with MS Paint. Altered with PSP7.
Author
Anie, 23, from Germany, loves music and the movies, obsessed with nature, animal lover, gets politically involved, studies Cultural Science in Frankfurt/Oder (Germany), currently an exchange student in Linköping (Sweden) more.
part of JellowCat.net - ©2004-2005 Anie for JellowCat Productions