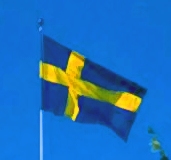 Welcome
to Tala Svenska, a fanlisting for the Swedish language approved by TheFanlistings.org. If you're a fan go grab a code and join!
Member count 74
Opened 29 December 2004
Last updated 4 July 2007
TFL pacifier..
4 April 2007
Three new members. Welcome Danielle, Caroline and P᪩nka!
20 January 2007
One new affiliate. Three new members. Welcome Philip, Enskatar and Malwina!
20 October 2006
Two new affiliates. Three new members. Welcome Adastra, Gernot and Geamhradh! Code donation: Thanks Adastra!
29 August 2006
Two new members. Welcome Nina and Dominika!
19 August 2006
One new affiliate. Pending members will be added shortly.
part of JellowCat.net - ©2004-2005 Anie for JellowCat Productions